5 Tips to Cope with the Christmas Stresses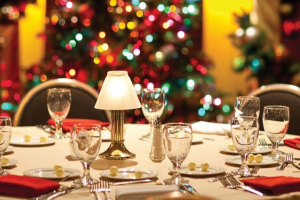 While Christmas is considered to be the 'most wonderful time of the year,' for many it can be quite a stressful period. With work wrapping up for a few weeks, and a lot to sort out at home, it's really easy to become overwhelmed with your ever-expanding to do list.  
If you find you often get so stressed during the festive period that you end up burnt out and unable to enjoy the time off that you do have, read on to discover our top 5 tips to cope with the Christmas stresses… 
1. Be strict with your expectations
We all have our own standards and expectations, but when it comes to something like Christmas we're often our own worst enemies. We all want to do out best at work and by our friends and family, but it's never worth getting so stressed about that you end up exhausted.  
Set a limit for your expectations. In the run up to the festive period, have a look at your schedule and what is actually achievable during that time frame. Start saying no to things you won't be able to achieve, and try to be realistic about your plans. Try to forget about perfect, and instead focus on creating enjoyment for both yourself and others.  
2. Make lists
When we've got a lot going on in our heads this can be incredibly overwhelming. It's also tricky to get organised when we have so much to do and we're trying to sort everything out in our minds. Get everything out of your head and plan as much as possible by making lists. Not only will this help you see clearer and feel less overwhelmed, it will also help you to manage what's achievable and what you might need to forget about.  
3. Ask for help
Whether in the work place or at home, don't be afraid to ask for help if you need it. It's all too easy to take everything on your shoulders and just try to cope, but the truth is there can be a lot of positives to come out of holding up your hand and making it known that you could do with a hand.  
In work this could result in being acknowledged that you're snowed under and some pressure being taken off, and at home an extra pair of hands might mean something you didn't think would be possible actually gets done with ease.  
4. Take some 'me time'
Taking some time to yourself can seem counterproductive when you already hardly have any time to spare. Taking time out to get some rest when you can will help to clear your mind, making you better able to keep on top of everything. Try finding just 30 minutes a day for yourself – book in for a massage, have a bath, practice yoga or just sit quietly and read. This will make the world of difference.  
5. Save time where possible
Strategic isn't a word often used when it comes to how to approach Christmas, but being strategic about your plans will save you loads of time. When you're planning everything that you need to get done, think of ways to make the jobs easier. Could you order presents online instead of going shopping? Could you get your turkey delivered instead of picking it up? When you've got to go somewhere, is there something else near by that you could pick up or sort out to save extra trips? Being strategic could save you precious minutes you didn't know you had. 
Just a few simple steps could make all the difference to how you feel about Christmas this year. Most importantly, don't forget to ask for help when you need it, and take time out whenever you can.
If you are an employer, consider introducing a health focused benefit scheme to reduce the likelihood of your employees developing work related stress. Find out more about our corporate massage services here.